All successful applicants for an EU job have to undergo a medical examination before taking up duties. This usually takes place 2-4 weeks before starting your employment. Attending and passing the medication examination is a prerequisite to signing your employment contract. This article will help you to understand what to expect and how to prepare for the health check-up.
Location and travel
The medical examination usually takes place in Brussels, but can also take place in the location of your institution if it has procured the necessary services locally. Irrespective of where the medical examination takes place, you most likely have to take a holiday and plan an extra trip there before the start of employment.
The medical examination in Brussels takes place at the European Commission's Medical Service, building BREYDEL 2 – office 6/508, 19 avenue d'Auderghem, 1040 Brussels. It is a 10-minute walk or one metro stop away from the Schuman roundabout.
Costs
You do not have to pay for any of the costs directly associated with the medical examination. It is indeed free of charge and you get the benefit of a thorough health check.
Travel and subsistence costs related to the medical examination will be reimbursed by your prospective employer. However, you have to initially pay for you travel, accommodation and subsistence costs out of your own pocket, and then to submit proof of payment to your institution's HR unit along with any requested forms (usually, Application for Reimbursement of Travel and Subsistence Expenses, Legal Entity form, Financial Identification form). The forms will be provided by the institution's HR unit.
Main conditions to bear in mind:
Reimbursement of travel expenses generally has a limit of 750 EUR regardless of where the applicant flies from;
You will be reimbursed only if the distance between the place of residence (as stated in the application form) and the examination centre is over 150 km;
You can travel by air only if the distance by rail exceeds 500 km (where a sea crossing is necessary, the 500 km limit does not apply);
Economy flights and other means of transport are preferred by the institutions. If you buy an expensive ticket, be certain that you can justify your choice (i.e., had to fly out after work, no other alternatives);
Taxi, parking fees and urban transport expenses are usually not reimbursed; these have to covered from the daily allowance amount;
You can travel with private car, but check the particular rules of reimbursement, including the necessary proof of payment for gas;
If you are unsure of the rules or have any doubts about travel expenses, get in touch with the institution's representative that arranged your medical examination.
EU institutions usually offer a subsistence allowance / per diem of EUR 50 per day if the medical centre is at least 150 km from you place of residence. You are expected to cover accommodation (hotel) costs from this amount so either be prepared to sleep in shoddy hotels or get in touch with friends in Brussels.
Medical examination – what to expect?
Usually you'll have to be at the medical examination centre at 8:00 AM as the first procedure is a blood test and the lab supposedly closes at 9AM. Attendants are recommended to stop eating at 22:00 the evening before. I arrived a 8AM sharp and there were already quite a lot of people in the queue, so if you don't want to wait try to arrive before that.
The medical examination consists of the following procedures:
blood test;
urine test (sampled locally at the centre);
heart examination (electrocardiogram);
X-ray of the lungs for smokers (I as a non-smoker was exempted);
general examination;
ophthalmologist (eye examination).
I was finished with everything except the ophthalmologist in two hours by 10:00 AM, including the wait in queue.
Eye examination
As the eye examination takes place in a different address some 500 meters from the medical centre, you have to walk there for the final check-up. The address is Avenue de Cortenbergh 66, Brussels. Plan at least another 1,5 to 2 hours for the eye examination as in my case there was only one doctor present and it took her around 15 minutes to deal with each patient.
Medical examination form
Before the general examination (general check-up by a doctor) all attendants have to fill a fairly detailed health assessment form.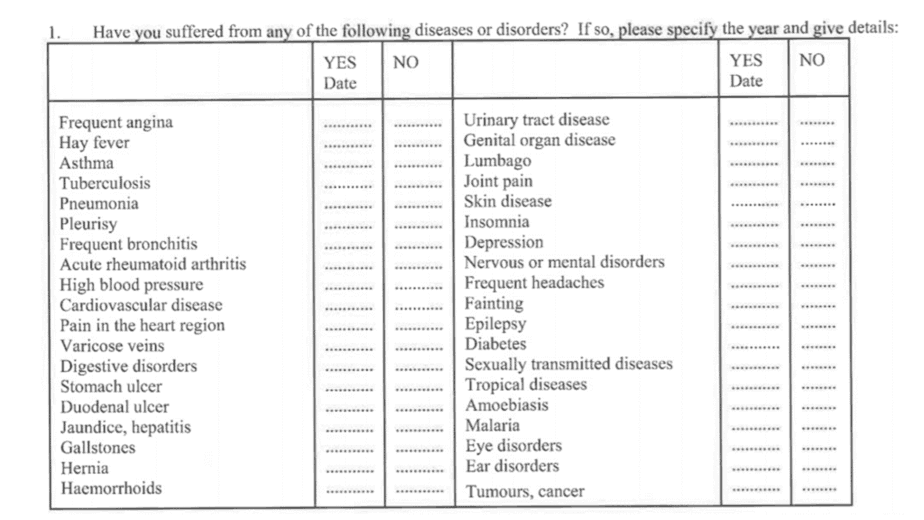 An older version of the form presented at the medical centre can be found here. The layout of the most current form differs slightly, but it has the same contents as the form available for download.
Expanded list of questions that might require advance preparation
The examination questionnaire is fairly detailed. There are plenty of questions, where, if you happen to have a particular condition, it wouldn't be possible to recall the necessary information from the top of your head.

This is a list of questions you probably should go through a week before the medical examination. I suggest that you write down the answers so as to have them available on the medical examination day.

Has any of your family members (father, mother, siblings) suffered from cardiovascular disease, respiratory disorders, mental illness, neurological disorders?
Give details of any medical condition for which you are currently being treated.
Have you ever been treated in a hospital or at a clinic? Where, when and for what reason?
Have you ever undergone surgery? Specify nature of operation(s) and date(s).
Have you ever been absent from work for more than a month because of ilness? When? What was the ilness?
Do you have a partial permanent incapacity for work following an accident or illness? When? Nature of the disability?
Have you ever consulted a neurologist, psychiatrist, psychoanalyst or psychotherapist? When? Nature of the disability?
Have you ever undergone treatment for alcohol or drug addiction?
Do you regularly take any medication, including oral contraceptives?
Have you ever undergone radiological or nuclear medicine examinations? Which examinations?
Have you undergone courses of radiotherapy or chemotherapy? Specify treatments.
Have you ever had an industrial accident or suffered from an occupational disease?
List any occupational or other hazards to which you have been exposed?
As you see, lots of information is requested as part of the examination, part of it can be quite detailed. If you answer with a "YES" to any of the questions, you are requested to indicate when the disorder/disease/incident/procedure took place and other details. Be sure to download and check the form at least a week before your visit at the medical centre as you might need to hunt down health documentation to be able to fill out the form completely. Most institutions' HR units don't mention that the information requested will be this detailed.
Failure to show up or not taking the job despite passing the medical examination
If you do not undergo the medical examination at the set date without a strongly justified reason, the particular EU institution will most likely withdraw its job offer. If for some justified reason you are not able to attend the medical examination, inform the respective institution's HR unit immediately, try to agree on a different examination date and document and present the reasons why you were not able to attend the medical examination at the initial date.
If you undergo the medical examination and cover the associated travel and other costs, but end up not taking the job, the particular EU institution will most likely not reimburse you for the costs associated with attending the medical check-up.
Consequences of the EU medical examination
The EU is an equal opportunities employer and has a fairly high threshold when it comes to health issues. The EU for sure hires smokers (a good thing for those who do smoke). I've had at least one colleague with a serious physical disability and she wasn't disqualified during the medical examination.
However, theoretically, one can fail the medical examination and be denied a job. This is regulated in Article 33 of the Staff Regulations and is as follows:
Before appointment, a successful candidate shall be medically examined by one of the institution's medical officers in order that the institution may be satisfied that he fulfils the requirements of Article 28 (e). Where a negative medical opinion is given as a result of the medical examination provided for in the first paragraph, the candidate may, within 20 days of being notified of this opinion by the institution, request that his case be submitted for the opinion of a medical committee composed of three doctors chosen by the appointing authority from among the institutions' medical officers. The medical officer responsible for the initial negative opinion shall be heard by the medical committee. The candidate may refer the opinion of a doctor of his choice to the medical committee. Where the opinion of the medical committee confirms the conclusions of the medical examination provided for in the first paragraph, the candidate shall pay 50 % of the fees and of the incidental costs.
Artticle 28 (e) states that a candidate must be "physically fit to perform his duties". If anyone has information on how physically unfit you must be to fail the medical examination, please share it in the comments. I'm really curious!
Do you have any questions or suggestions for this article? Please drop me a message and let's make this resource even more useful!