Frontex, the European Border and Coast Guard Agency, is probably the largest recruiter among EU institutions in the period between 2020 and 2027. By 2027 it is supposed to hire 3000 new staff members that will form Category 1 of the EBCG Standing Corps. 
You might have heard that by 2027 there has to be a 10 000 person-strong EU Border Guard Force. The 3000 officers to be hired until 2027 will be Frontex staff members. The other 7000 thousand officers will be on short- or long-term loan (secondment) from EU member states.
To find out the full benefits package for each of the Frontex border guard levels, read the relevant article:
>> Salary and benefits – European Border and Coast Guard Officer, Basic Level (FGIV)
>> Salary and benefits – European Border and Coast Guard Officer, Intermediate Level (AST4)
>> Salary and benefits – European Border and Coast Guard Officer, Advanced Level (AD7)
Frontex video about Standing Corps
Where to sign up?
If you want to become a Frontex border guard, you have to follow the Frontex website "Careers" section. Date of the 2nd call for applications has not been announced yet.
Deadline for the initial selection of the first 700 Frontex border guards was 16 December 2019. More than 7000 candidates applied. The 700 prospective border guards will be short-listed by March 2020. They will be trained until November 2020. Those who will pass the final exams will officially become Frontex border guards as of 1 January 2021.
The 700 short-listed candidates will be paid a salary and other allowances as described in the Frontex job announcement during their training in 2020. However, if a candidate will fail final exams, he/she will not be offered an employment contract with the agency. 
If you are interested in applying for these Frontex border guard jobs, you will have to wait until the next round of selections. If you applied to the first round, but didn't get selected, remember that there are still 2300 posts to be filled until 2027 (the deadline set in the Frontex regulation). 
Frontex border guard salary
The basic salary of the Frontex border guard depends on the level you get selected to. All available positions will be divided into:
1. Basic Level, FG IV. 'Basic salary' range EUR 2004-2710 + allowances.
2. Intermediate Level, AST4. 'Basic salary' range EUR 2328-2416 + allowances.
3. Advanced Level, AD7. 'Basic salary' range EUR 3232-3348 + allowances.
The 'basic salary' directly depends on the job 'Level'. All other allowances are very much the same. 
Remember that the 'basic salary' forms only approximately 50-60% of the total remuneration package, plus, there are significant other benefits of employment like health insurance and pension rights. If you have children, the total remuneration package becomes even more generous.
Formal requirements for each Level
Basic
Education: a) diploma for completing university or equivalent studies of at least three years OR b) professional training of an equivalent level.
Intermediate Level
Education: a) diploma for completing post-secondary education OR b) secondary education diploma that gives you access to post-secondary education, and appropriate professional experience of at least three years.
Advanced Level
Education: a) diploma for completing at least a four-years university or equivalent studies (basically, a Masters degree) OR b) a diploma for completing university three-years of studies (a Bachelors degree) and appropriate professional experience of at least one year .
---
Profiles of Frontex Standing Corps border guards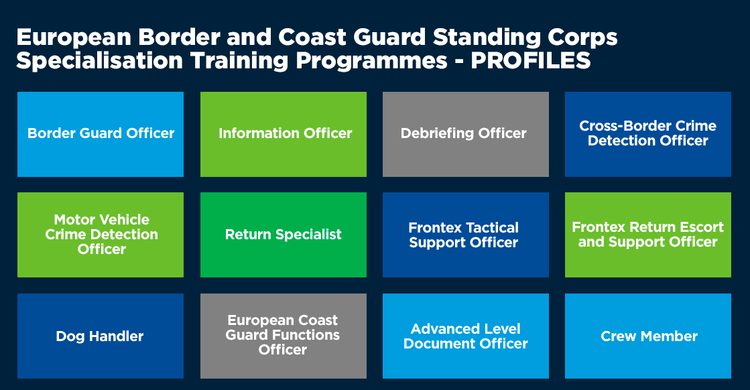 Border Guard Officer
Information Officer
Debriefing Officer
Cross-Border Crime Detection Officer
Motor Vehicle Crime Detection Officer
Return Specialist
Frontex Tactical Support Officer
Frontex Return Escort and Support Officer
Dog Handler
European Coast Guard Functions Officer
Advanced Level Document Officer
Crew Member
Location of work/deployment
Most Frontex Border Guards will be deployed to operational areas at EU/Schengen external borders or third countries that have signed a Status Agreement with the European Commission (for example, Western Balkans).
A minority of the officers will be deployed to Frontex headquarters in Warsaw, Poland.
Some officers might be deployed to their home countries, but officers will not be able to select their place of deployment.
Applying for multiple positions
It is allowed to apply for multiple positions at once. You can apply to all three levels – Basic, Intermediate, Advance – at once without any penalties.
Age limits
Intermediate and Advanced Levels have no age limits. Everyone up to the age of 65 can apply.
For the Basic Level, a candidate must be younger than 47 when applying.
Stages of the selection process
The first group of Frontex Border Guards are expected to start work on 1 January 2021. According to the agency, each selected candidate will undergo around six months of basic training before deployment. Specialist training will be offered after the initial training is completed and candidates pass the final readiness tests.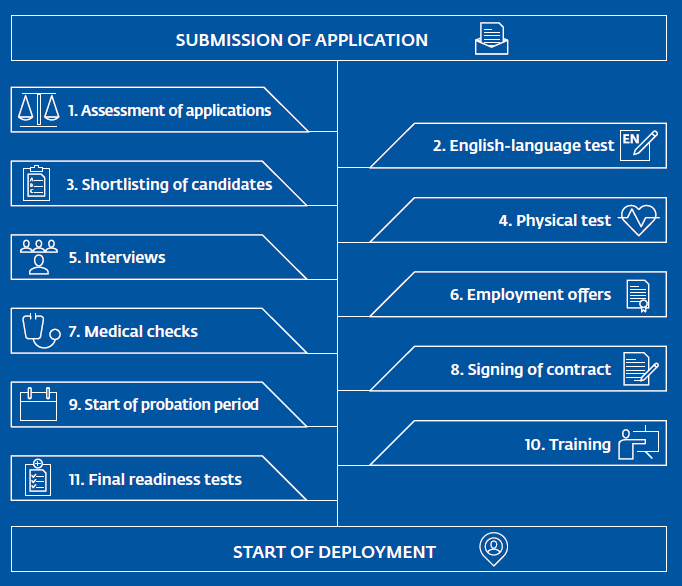 The 9 months probation period starts after a candidate is selected by Frontex. The basic training will go for about 6 months. This means that if a candidate will not pass the Final readiness tests, a contract with the person will be discontinued within the probation period.
Will Frontex border guards carry weapons?
Yes, Frontex border guards are entitled to carry service weapons.
What are 'Categories' of the Frontex Standing Corps?
There will be four categories of Frontex Border Guards. The current selection is for Category 1 border guards.
Category 1: Border guards directly employed by Frontex as staff members and regularly deployed to border guarding missions according to their profile
Category 2: Long-term staff seconded from member states
Category 3: Short-term staff seconded from member states
Category 4: Reserve of EU member states border guards that are available to Frontex for rapid border management crisis
The table below shows the projected growth of the Frontex Standing Corps by Category.
The Frontex Border Guards that are recruited and trained in 2020 will fill the following professional profiles in 2021. The top three border guard profiles are a general specialist (266 vacancies), a forced return escort and support officer (169), a forged document detectors (ALDO, 53), an information officer (52), and a stolen vehicle detection officer (46).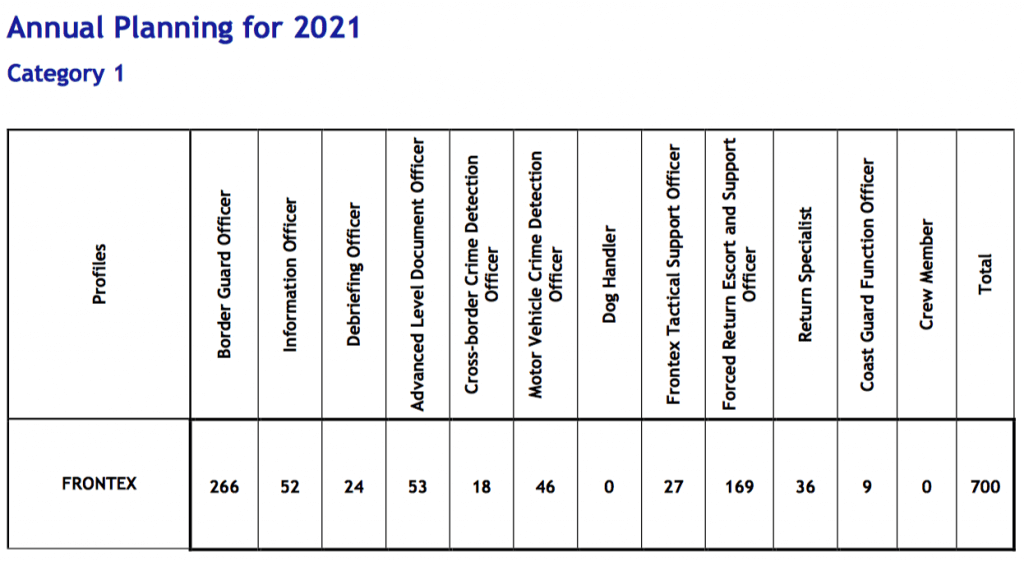 What questions or suggestions do you have for this article? Please share in a comment below and let's make this resource better for you and other readers!