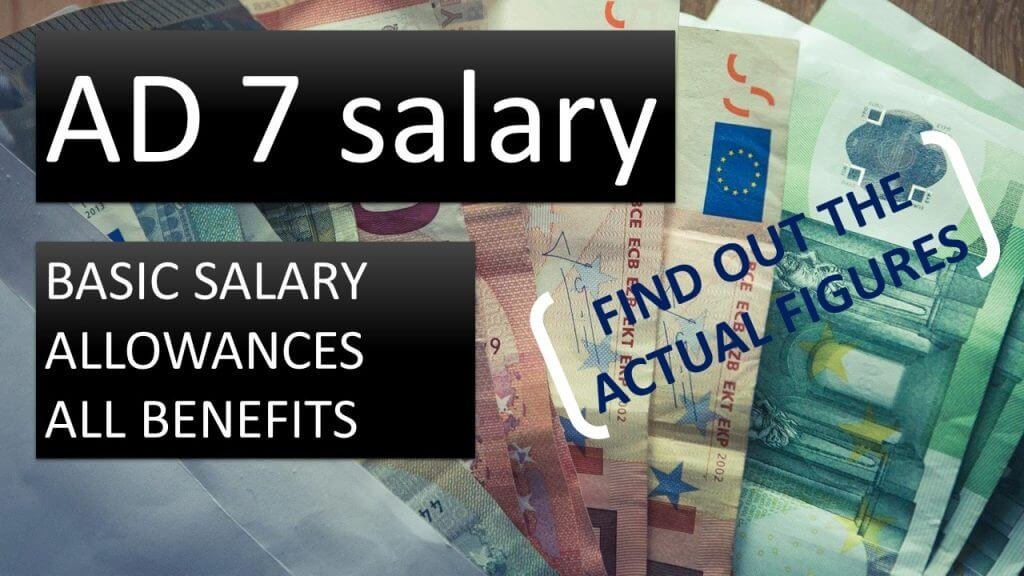 This article covers AD 7 salary or how much a Temporary Agent in grade 7, step 1 in a European Union institution can expect to earn.
Basic salary vs. full remuneration package
The 'basic monthly salary' for temporary agents AD 7 ranges from EUR 6251 to 6934 (figures for July 2019). It depends on which step you are in (1-5) which is directly linked to the length of your employment at an EU agency. The longer you serve, the higher your salary gets automatically roughly every two years.
However, knowing the 'basic monthly salary' in most cases does not tell you much about your final take-home pay. There are two reasons for this.
Firstly, the basic salary can make up anything between 50% and 100% of your total remuneration package depending on whether you entitled to the various allowances. This is especially so if you have children or/and are an expat.
Secondly, the country you are employed in has a significant impact on your total salary due to the 'correction coefficient'. Brussels is used as reference and you get the nominal amount quoted in the Staff Regulations and above. If you work for an EU agency in Scandinavia, your salary and allowances will upped by 18-31% to compensate for higher living costs. Conversely, if you will work for the EU in Bulgaria, you will get only 55% of what your colleague in Brussels gets.
Also, when thinking about employment at an EU institution, you should not only focus on the basic salary, but the full benefits package.
Four scenarios
Below is a sample calculation of an AD 7 step 1 salary for four common scenarios for a temporary agent employed in Brussels, Belgium.
Single Belgian national with no children.
Married Belgian national with two children.
Single Italian national with no children.
Married Italian national with two children.
| | SCENARIO 1 | SCENARIO 2 | SCENARIO 3 | SCENARIO 4 |
| --- | --- | --- | --- | --- |
| Basic Pay | 6251 | 6251 | 6251 | 6251 |
| Household allowance | 0 | 0 | 0 | 316 |
| Dependent child allowance | 0 | 836 | 0 | 836 |
| Education allowance (if child doesn't attend the EU School) | 0 | Varying | 0 | Varying |
| Expatriation allowance 16% | 0 | 0 | 1051 | 1185 |
| Pension contribution 9.70% | -606 | -606 | -606 | -606 |
| Health insurance contribution <0.6% | -106 | -106 | -106 | -106 |
| Accident insurance contribution 0.10% | -6 | -6 | -6 | -6 |
| Tax 8% | -556 | -271 | -556 | -271 |
| Unemployment Insurance contribution 0.81% | -40 | -40 | -40 | -40 |
| Special levy 6% | -117 | -117 | -117 | -117 |
| TOTAL REMUNERATION | 4819 | 5941 | 6186 | 7646 |
N.B. These calculations are only indicative as they are based on public sources. Only your institution's HR department will be able to calculate a 100% accurate figure once you provide all necessary documents.
Allowances and other benefits
There are a number of additional benefits on top of your basic salary. These can boos your income by as much as 100% depending whether you are an expat and have a spouse and children. When considering a job at an EU institution, people too seldom take these benefits into account. The European Commission and other EU institutions do a poor job of communicating these benefits to possible employees. Important – these benefits are available to both temporary agents (AD 5-16 and AST 1-11) and contract agents (FG I to FG IV).
Travel costs on taking up duties
Daily subsistence allowance (during probation period)
Installation allowance and coverage of removal costs (one-time payments)
Dependent child allowance
European School enrollment for children or Education allowance if there is no local EU school
Healthcare costs reimbursement to a level of 80-85% through the EU's Joint Sickness Insurance Scheme for the employee and any direct family members and dependents. 100% reimbursement of costs in case of a serious illness
Accident insurance
Annual travel compensation. If your institution is in Brussels, for a 4-person family from Rome this will amount to EUR 2781. For a single person the amount will be EUR 677.
Birth grant
Parental leave
Removal expenses when leaving your home country and again when leaving your EU institution
EU pension, survivors and orphan's pensions, invalidity allowance
Lump sum payments in case of permanent invalidity or death
Lump sum funeral expenses, around EUR 2350
Sources:
This article is based on the European Commission Staff Regulations and other publicly available information such as EU institutions' vacancy announcements. As the EU legal documents and even information on the various websites is hard to understand, this article is one from a series that tries to make information about employment in the Commission and other EU institutions more accessible.
Do you have any questions or suggestions for this article? Please comment below and let's make this resource better for other readers!